Shiny
Well, it was inevitable really.
Now that the Xbox 360 is only 5 days away from being in my hot little hands, it was time to 'prepare' for the arrival of my new baby.
That meant: living room upgrade.
With many thanks to Lumpy and his research and advice, I'm now the proud father of a bright and bouncing
32" Samsung LCD TV
.
I was able to swing a deal at MYER (where I bought it) and for an extra $100 got a
Digital HD Set-Top Box
thrown in for good measure. (I wasn't aware that over 85% of Melbourne's free-to-air TV is
broadcast in Widescreen HD
- bonus!)
Next on the list, was a truly digital 5.1 surround system. The one I have currently (
Logitech X-530
) isn't true surround, and doesn't have digital/optical inputs; not good enough for the Xbox360 i'm afraid!
So, once again with thanks to Lumpy, I grabbed a
Logitech Z-5500 Digital
system.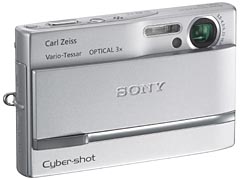 And, well,
you
know what it's like when you're on a shopping roll; time to get a
decent
digital camera too! (Right?)
I ended up with the
Sony Cyber-shot® DSC-T9 Carl Zeiss
Digital Camera. Very nice, very compact, 6 megapixel,
optical
(not digital) image stabilisation, and optical zoom.
Also can't have it sitting around naked, can we?
So off I trotted to the Lt Bourke St Crumpler Store and bought
a
Thirsty AL
. Very cute, very neoprene.
Very happy. (It's charging at the moment, so pics will follow later tonight..)
So, all in all a good day's work for moi.
And, finally, I'll be able to enjoy all my DVD's and games in Surround Sound, and HiDef where possible.
Now, the unfortunate part of
unpacking and connecting
it all.. *sigh
PS: Names! They need names!
Crumpler is to be named 'Harry' according to the chick in the Crumpler Shop, although it already has a name (Al)..?

Camera has 'Carl Zeiss' written across the front of it, so is it's name Carl?

TV - no idea

Surround Speakers - do they require a name?

Comments of help please!

**Update:
sambo is now wireless yay! Got one of them fangled D-Link AirPlus G DI-524 Wireless Router thingy's.


Although i'm not even going to attempt to set it up yet - might need DK for that.. (please?)


**Update #2:
See comments, but effectively: GET A SET TOP BOX NOW, so you can enjoy free-to-air digital, HD, widescreen, 5.1 dolby surround, television.
No, really..